246 BC: The future first emperor of China, Ying Zheng, orders the construction of the Terracott a Army. It will be part of the "Great Mausoleum", a monument built to celebrate the Qin dynasty 's endless glory. It is also to protect him in the afterlife.
As a delegate of the Emperor, you will be asked to fulfill his wish by leading a team of workers and helpers to obtain resources, craft and decorate the warrior statues, and supply them with fine wood and bronze weapons. After 6 turns the player who gains the most prestige points is
Contents: 1 main board, 128 cards, 30 clay blocks, 25 coins, 24 pigments blocks, 12 emperor request tokens, 8 player markers, 1 prime minister pawn, 8 master builders, 6 army formation board, 4 building tiles, 36 terracotta warriors, 8 emperor delegate seals, 28 mausoleum tiles and 1 rulebook.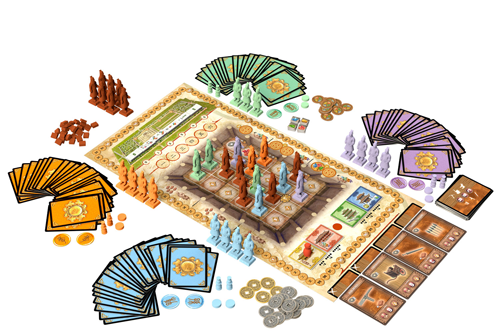 ---
Designers
Marco Legato
Antonio Ferrara was born in Naples on September 8, 1976. He wrote four novels, including "Gli Occhi del Male" (The eyes of evil), published with Prospettiva Editrice in 2002. Antonio is Affiliate Member of the Horror Writers Association. In 2013 he founded the Francis Marion Crawford Prize for the Horror Literature. In 2014 he published the novels "L'Urlo Bianco" (The White Scream) with Il Foglio Letterario and "NEILA" with Lettere Animate. Antonio created "Stay Away!" with Sebastiano Fiorillo and now is currently working on a new board game and a novel.
Francesco Testini
Sebastiano Fiorillo was born in Naples on the May 27, 1983. Architect, game lover and digital graphics passionate, in 2014 he releases, with Antonio Ferrara, the card game "Stay Away!", where is also the illustrator. Successfully funded on Kickstarter, "Stay Away!" is published for the first time by Pendragon Game Studio.
Game for
Players 2-4
Minutes 60
Age 14+
---
They speak on us…
LudoVox on Xi'an
Oh que oui ! Xi'an est un très bon jeu qui parvient à mélanger de la programmation, du placement, une forme d'enchère à l'initiative, des pouvoirs cumulables à l'infini… Et le tout fonctionne étonnamment bien.
VIDEO PREVIEW
---
VIDEO REVIEW
---
Other Games
Do you want to try a new game? Do you need ideas for your weekly game? Stay linked to our web…
Xi'an
Updated on 2019-06-04T16:48:14+02:00, by pendragonadmin.