Help the panda clans to free and civilize their country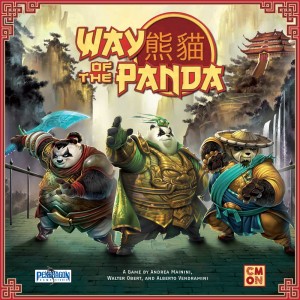 For a long time the Xian, the eastern region of the ancient lands of the Pandas it has been occupied and plundered by a merciless schism of human ninjas.
The Clans of the Candid Fist, of the Yellow River, Lily of the Night and of the Sand Fox, now are commanded by the new Shogun that seat on the Black Lotus Throne, to put all the fights and discussions apart in order to cooperate in send the human away from the region and bring the
villages to the ancient splendor.
Way of the Panda is worker placement game with innovative game mechanism. In the game there are multiple ways to gains victory points but only one will be the winner. Would you be able to change your strategy with the changes of the victory conditions?
---
Designers
Andrea Mainini, Walter Obert and Alberto Vendramini
Game for
Players 4-12
Minutes 90
Age 14+
Download
Download the ENGLISH rules
Download
78.2 MB
---
VIDEO REVIEW by DICE TOWER
---
---
Other Games
Do you want to try a new game? Do you need ideas for your weekly game? Stay linked to our web…
Way of the Panda
Updated on 2020-03-24T11:21:14+01:00, by pendragonadmin.