In ancient Greece, mighty  city-states compete in every war: religion, commerce, politics… even in war. Every city strives for supremacy in a relentless struggle for dominance, each fighting in the name of its won patron god.
YOU are the leader of a growing city-state. From humble beginnings you must grow your might and power. You must gather resources from your holdings-gold, citizens, and Hoplite warriors – and use them to expand your city and curry favor with the gods. Them, use your military and cultural might to overcome your rivals!
Can your people – and your city's patron god – claim their rightful place at the pinnacle of Greek civilization?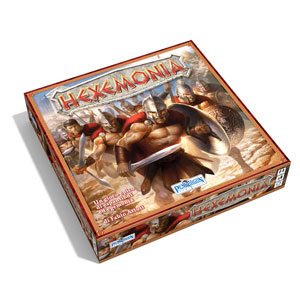 Components: 56 hexagonal tiles, including: 5 Acropolis tiles (one for each city-state), 51 Terrain tiles, 140 woodeden Resource cubes, 1 Philosopher pawn, 6 Myth tokens, 1 Last Player token, 4 player reference tiles
---
---
Designer
Fabio Attoli
Fabio Attoli's debuts as author in 2005 with MiniMonFa, designed with Antonio Dessì and published by Stratelibri. He develops 4 expansions for the same game up to 2006. In 2007 he finds interest in the world of Live Action Role-Playing and develops a set of narrative rules still in use today. Since 2009 he's the coordinator of GioCoMix (www.giocomix.com), the biggest comics and games convention of Sardinia. Fabio has a Bachelor's Degree in Music and New Technologies, and has been working for more than ten years as a web designer for important ICT firms, start-ups and public authorities.
Download
Andrea Chiarvesio, designer
Hexemonia It's a full 8. Elegant and simple, still deep. Very nice building graphics. Even direct interaction is not a problem, but adds something to the game.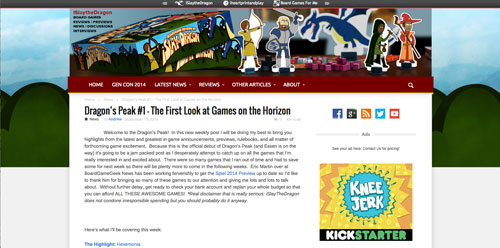 ---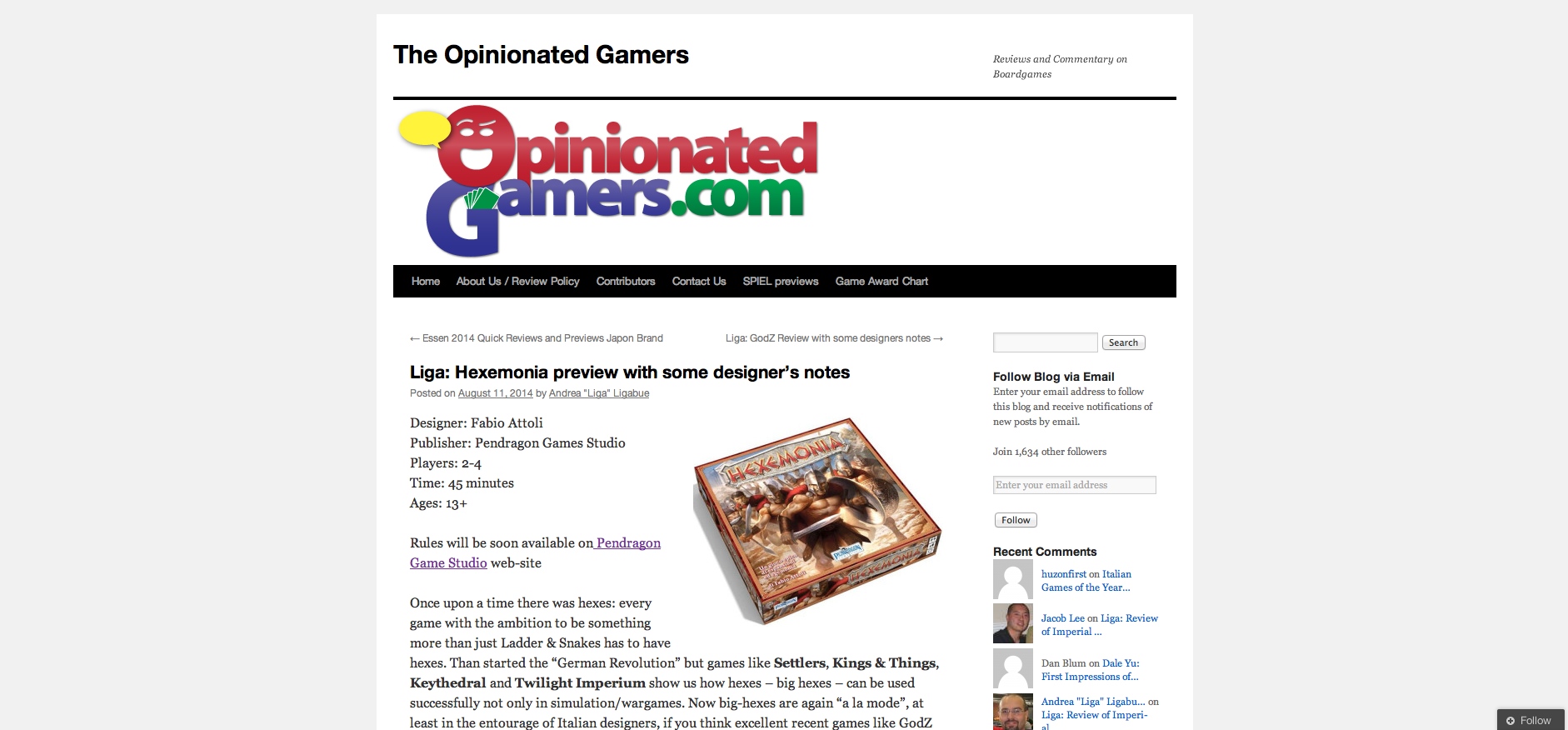 ---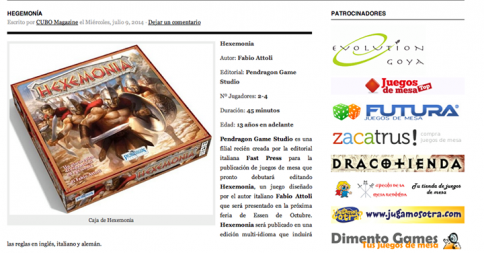 ---
BGG HEXEMONIA OVERVIEW – SPIEL 2014
Andrea Vigiak presents Hexemonia to Boardgamegeek TV in Essen Spiel 2014
---
SPANISH VIDEO REVIEW by Iru 80
Other Games
Do you want to try a new game? Do you need ideas for your weekly game? Stay linked to our web…
Hexemonia
Updated on 2016-05-09T19:06:30+02:00, by pendragonadmin.